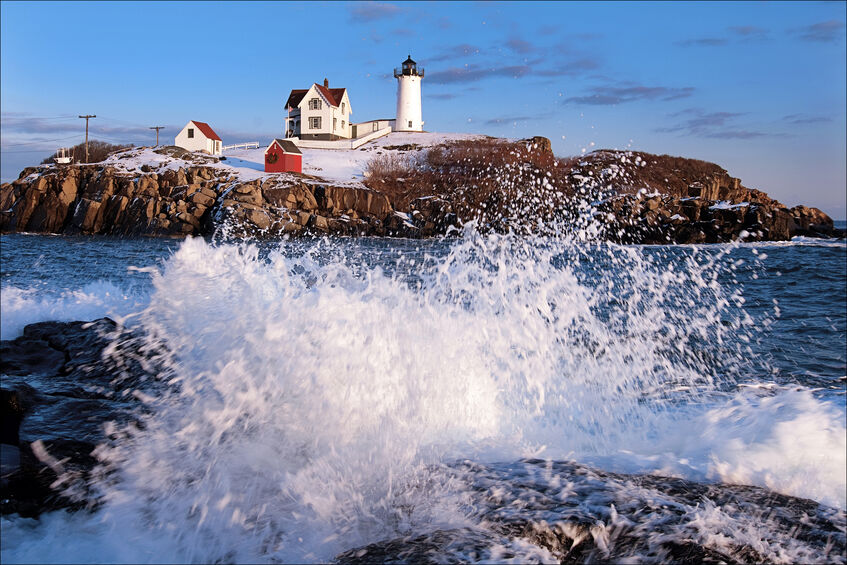 When planning a trip to York Beach, ME, you'll want to make sure you see everything it has to offer.
Whether you enjoy relaxing at the beach, having delicious seafood dinners or taking in the natural beauty of the area, your trip will not be complete without checking out the two spectacular lighthouses nearby.  
York Beach is home to the scenic Cape Neddick (Nubble) Light and is just a stone's throw away from the Boon Island Light, just a few miles off the coast.
These two lighthouses have a rich history and are breathtaking to take in. Make your York Beach, ME vacation complete by viewing both during your visit! 
Nubble Lighthouse
The Cape Neddick Light, better known as the Nubble Light, is a lighthouse located on the large rock island of Cape Neddick, just a few hundred feet from York Beach.    
This lighthouse is one of the most popular in the state and is truly a sight to behold from both water and land. Being surrounded by rocky coastline and featuring a distinctive white color, this islet is considered the most photographed lighthouse in the United States.
Interestingly, the Voyager spacecraft, which holds photographs of Earth's most spectacular man-made structures in the event of contact with other life forms, includes a photo of Nubble Light, along with images of the Great Wall of China and the Taj Mahal.
This lighthouse is still in operation today and offers breathtaking views of the Atlantic. A nearby parking lot is open year-round that offers visitors incredible views for photographs or a space to simply relax.
Boon Island Lighthouse
Boon Island Light is a bit more remote than Nubble but is well worth the extra effort to see it. This lighthouse can be accessed by boat and is about 6 miles from the coast of York Beach. It is the tallest lighthouse in both Maine and New England at 133 feet and has a range of light of 19 miles.
Tours are regularly available to the island and offer breathtaking views of this glorious lighthouse along with birds and seals that enjoy the shallow waters around it.
If you're planning a trip to York Beach, ME in the near future to take in spectacular lighthouses and other local attractions, we ask that you think of us for your lodging needs at Sands by the Sea.
We are a motel and vacation suite located along the York Beach waterfront. We offer spacious rooms, comfortable amenities, exceptional service and incredible oceanfront views that will guarantee you'll have a vacation you won't soon forget.
Sit back and relax after a day of the town at Sands by the Sea. Give us a call today at 207-363-2211 to book your stay.