This bright red crustacean was once considered the "poor man's chicken" and was even used as fertilizer. During the early 1800s, lobsters were so plentiful that they used to wash ashore in piles up to 2-feet high. Because of their abundance lobsters were used to feed slaves, as the meat was cheap and easy to prepare.
Today, lobster meat is revered as a delicacy and perceived as a luxury food item. There are two different species of lobster- clawed and spiny. There are a few things that distinguish them from each other, here is why Maine lobster is the most popular of the two:
Spiny Lobster – This kind of lobster lives in warm water and has long antennas. This spiny lobster does not have the large claws like a Maine lobster which is the feature that clearly distinguishes the two. The spiny lobster can be found in warm Florida waters, in the Caribbean and the southern California coast.
Maine Lobster – Residing off the northern coast, this lobster is well-known for its large claws, which are bountiful with meat. The cool waters of Maine make this lobster sweeter and more tender than its spiny counterpart.
Now that you know why Maine lobster is so delicious it's time to try some from an authentic lobster shack.
Maine is home to many different lobster shacks, people travel from across the world to taste this delectable seafood.
Here are s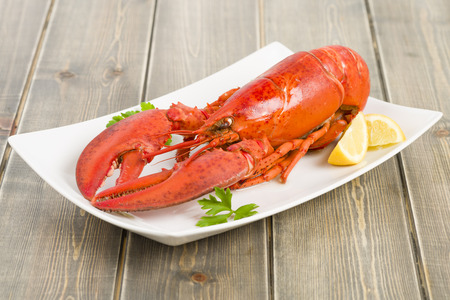 ome of the lobster shacks you should visit while in Maine:
The York Beach Bucket- Located right on Short Sands Beach next to the Sands by the Sea Motel has the most affordable and fresh lobster rolls in town. Fresh lobster meat is delivered daily from the Taylor Lobster Company out of Eliot Maine and the rolls are served in 2 ways: Cold with Mayo or Hot with melted butter. Both served on a soft, toasted brioche bun. Try them both and see which one you prefer. Most people prefer both!
Lobster Cove- Enjoy a beautiful oceanfront view as you dine on the finest of seafood. This restaurant is just a short distance from the iconic Nubble Lighthouse.
Fox's Lobster House- Established in 1966, this family-owned and operated lobster shack also offers a beautiful view right on the next to the Nubble Lighthouse and deliciously prepared Maine lobster dishes.
Lobster in The Rough- Visit this restaurant for authentic New England seafood, live music, and relaxing fire pits.
You might wonder if Maine Lobster is worth making a special trip for, and yes, it absolutely is!
When planning your trip to Maine book your accommodations at the Sands by The Sea Motel. Our locally owned motel is conveniently located just minutes from the authentic lobster shacks, and other popular attractions. Visit our website to view our rates and book your stay!