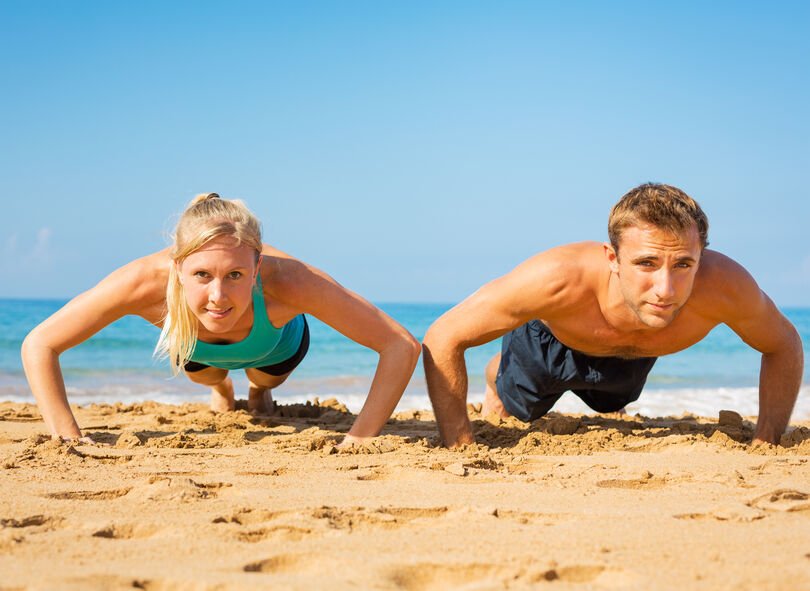 Whether you live by the ocean or are getting ready for your trip to the sea, the beach is a great place to complete a workout! Sometimes we don't have the motivation or time to get into the gym, but outdoor workouts can be just as effective!
Research shows that training on an unstable surface like sand improves gait endurance since it recruits various muscle groups and increases joint mobility.
Here are a few exercises that are perfect for a beach workout.
Sprints
Sprints primarily work your lower body muscles, including the calves, glutes and hip flexors, hamstrings, and quadriceps. Sprints also engage your abdominals, chest, back, and triceps, making them a perfect whole-body cardiovascular activity.
Squat Jumps
Squat jumps are a classic plyometric exercise that works your glutes, hip flexors, and quadriceps. Your abs, calves, and hamstrings will also be working hard here, especially on the unstable surface of the sand. 
This move is normally tough on your knees if you're not landing properly, so the sand can help cushion that impact. Start with your feet hip-width apart and in a squat position. Jump up and then land back down, ensuring you're landing in a squat position. Do 12-15 reps and three sets.
Sand Bucket Deadlift
Sand buckets aren't just for the kids! Bring your sand bucket and fill it with sand to use as a weight. To do the deadlifts, hold the bucket with both hands. Bend at the waist and use your legs to help you lean forward, engaging the core and glutes. Touch the bucket to the ground and engage your glutes to return to standing. Do three rounds of 10-12 reps.
Burpee to Push-Up
This move works your entire body. Start by standing, jump into a high plank, lower into a push-up, and back up to a high plank. Accelerate upwards and jump up. The move should be done in one fluid motion. If the push-up is too much for you, you can either lower your body completely to the ground and back up or stay in a high plank. Do three sets of 10 reps.
If you're looking for the perfect beachfront oasis for your next vacation, look no further than Sands by the Sea. If you are someone who prioritizes your health and wellness, the opportunity for the perfect beach workout is only seconds from our waterfront motel!
Enjoy gorgeous views, exciting activities, and relaxing shores of one of Maine's most picturesque oceanside communities. Whether it's a short weekend getaway or a long overdue vacation from work, we have the accommodations you need to be relaxed and comfortable. 
Contact us today at (207) 363-2211 to learn about our rates and accommodations!